Log in to SyncWords to access your Dashboard. The Dashboard is the command central of your account, where you can view the statuses of your projects, search projects by keyword, and create new projects.

Begin New Project
Click the "+ New Project" button in the upper right corner of your Dashboard.

Step 1 - Project Name and Tags
The Create New Project page will prompt you to name your project.

There are additional fields for optional project descriptions and tags. These are useful for providing valuable information and categorizing projects. To add these optional fields click "+ Add a description and tags (optional)"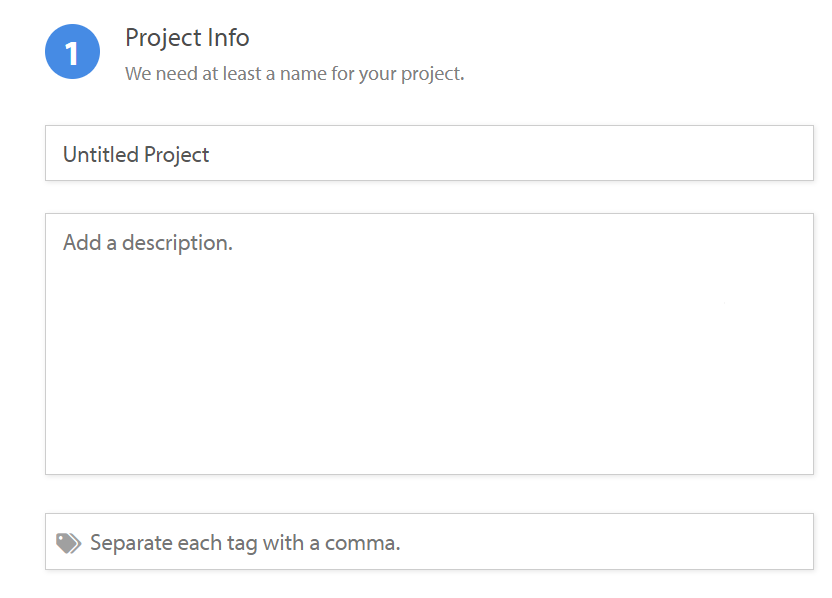 Both of these fields are fully searchable, so including relevant keywords can help you find specific projects at a later time.
Step 2 - Upload Media
You should choose the primary language of your media in the "Primary Language" dropdown.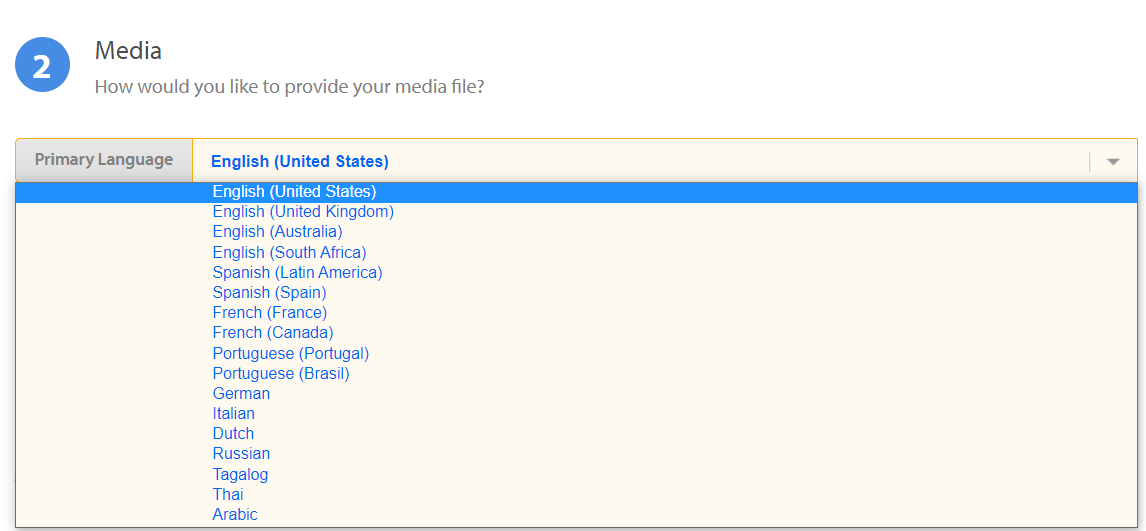 You can choose one of three ways to provide your media file - using a traditional uploader, linking your media via a web URL, or using a 3rd Party Account.
Upload the audio or video file that you want to caption by choosing I have a file to upload. You can select any media file from your local disc.
Alternatively, you can ingest your media files via web URL from YouTube, Dropbox, iCloud, and others and we'll download them for you. Simply paste your link here and click upload to the right. Direct links to your media from most cloud-based providers are accepted. SyncWords support all major video and audio formats.
Learn more about Integrations in SyncWords and Linking 3rd Party Accounts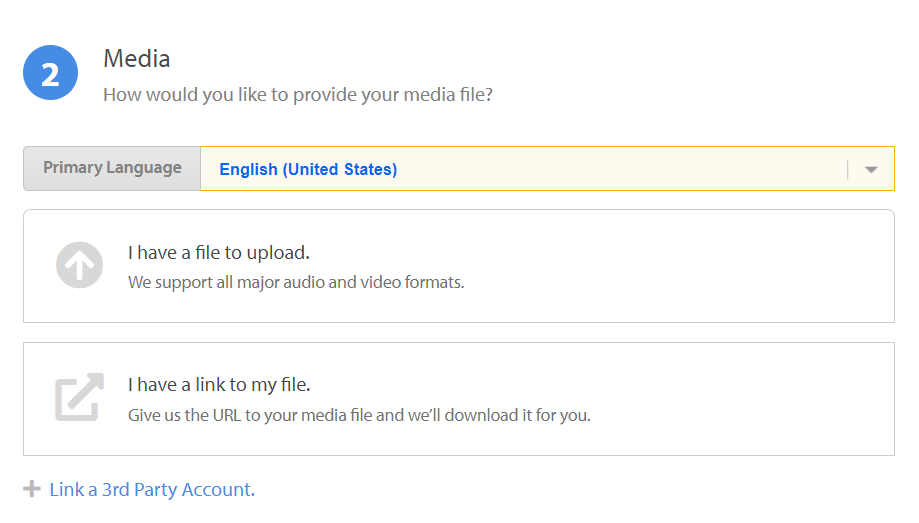 Step 3 - Transcription Options
If you don't have a transcript and want SyncWords to create one for you, choose "Create a transcript" and select one of the five available options.
Automatic Speech Recognition is a computer-generated transcription using AI technology (you can read more about it here). You can choose different ASR engines as well as apply or customize an ASR dictionary. The project processing time is approximately half the duration of the length of the media file depending on server load and the place of your project in line. Automatic Speech Recognition does not have an additional cost and is included in the price of creating a project.
The remaining 4 options are for human transcription. If you select one of these options one of our professional transcribers will take your media and create a verbatim transcript for our system to use when generating your captions
We have Standard Transcription, 2 Business Days, Next Business Day, and Same Business Day options. The price and turnaround time for each can be seen on your project page. Please make sure to keep the Transcript Turnaround times
in mind when submitting your project
By choosing that, you can provide notes and support documents for the transcriber, including the correct spelling of names, acronym definitions, and general guidance. You may also upload support documents, such as a syllabus, agenda, or cast/speaker list.
Click here for best practices on creating transcripts.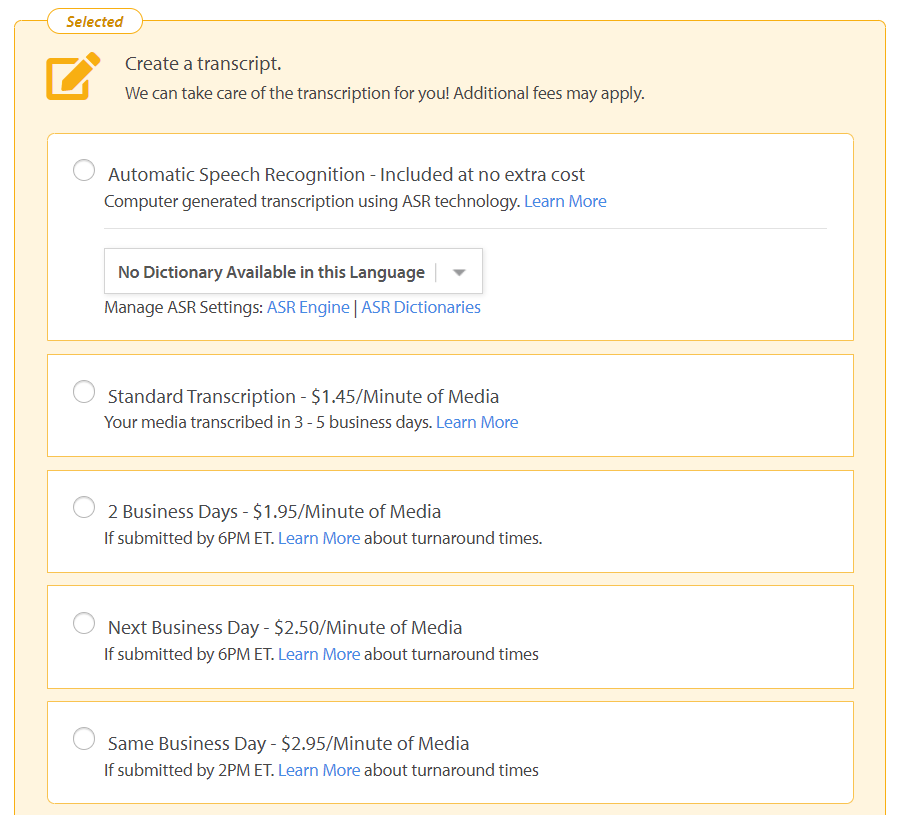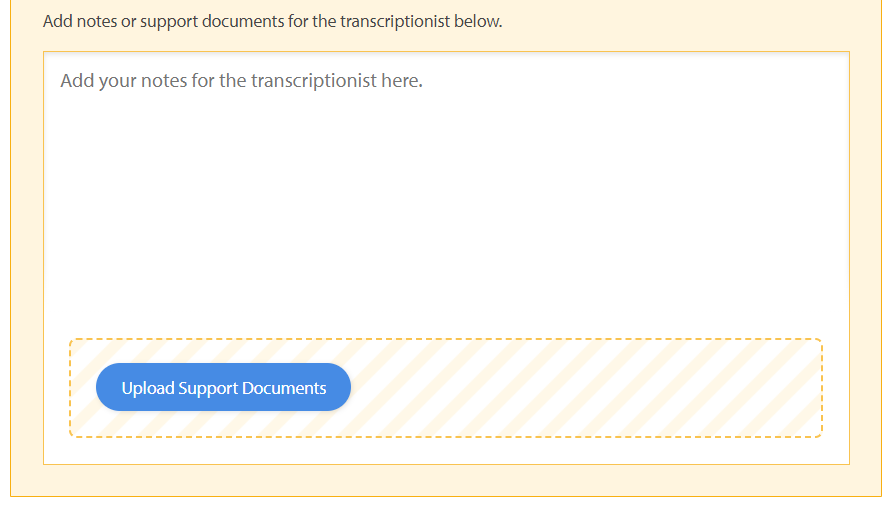 If you already have a transcript prepared, you can upload it by clicking "I have a file to upload". We support doc, docx, odt, and txt transcript files. Additionally, we support .SCC and.SRT caption ingestion as well.
If you would prefer to paste the transcript directly into SyncWords, you can do so by clicking "I would like to copy and paste my transcript." You can then paste your transcript into the field provided.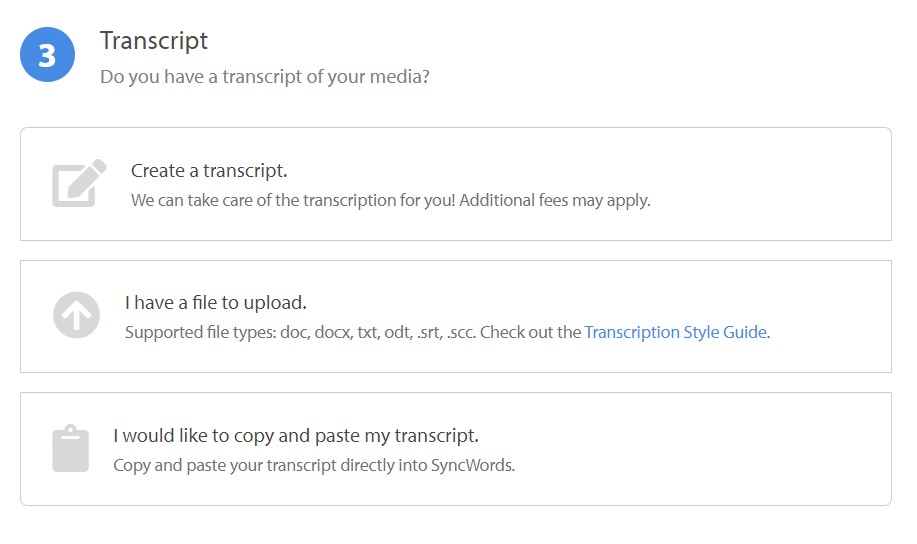 Step 4 - ProSync (Optional)
You can optionally have your synced files hand-checked by SyncWords to ensure the automated timing is accurate. Please note, ProSync can add up to an additional 1 business day to the file delivery time and does not include transcript text correction.

Step 5 - Review Costs & Begin Project
When you have completed the steps above you will be ready to begin the project. Review the project summary on the right of the page and select Begin Project.
On your Dashboard, your project will be marked in orange indicating that it's Processing while SyncWords generates your captions. When it turns green, your captions are ready for download.